The first (of many) Russian trains brings us to Moscow for four days. The Express train was extremely civilised - coffee brought to your seat, if you please... - and the view from our seats was simply spectacular.
Sammy admires the view
On arriving in Moscow, Sam is struck (as everyone is) by the gangs of
Militsiya
roaming the streets. We weren't insane enough to try taking a photo of them (instant camera-confiscation, possible arrest), but here's a photo taken by someone
braver than me
: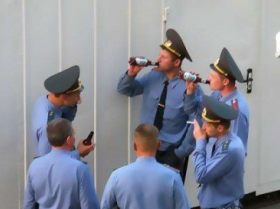 Fighting crime, one beer at a time
After dropping our stuff at the hotel, I insist on taking Sam to Red Square, even though it's getting dark. Red Square by night is like nothing on earth. On the way, though, we stumble into one of the (many) Crazy Bling Shopping Quarters of central Moscow.
Historic buildings be damned - I want shoes
The GUM shopping centre, once a dour Soviet hell, is even shinier than I remember.
Your puny camera cannot capture my awesome shininess
Red Square itself is breathtaking, of course - as are the views from the Moskva River.
You will be awed, decadent Westerners.
And we walk back to the hotel through a network of in-no-way scary underground tunnels
Nothing scary about this
"I'm so glad we did this, Ali."
Blogging may be light for the next few days, as our hotel's internet connection appears to be a Soviet-era telephone line. Uploading each photo takes at least fifteen minutes. It's 2am, and this has not been the most productive 3 hours of my life...